Fireplace insert KFD ECO MAX 14
1.00 руб.

In Stock

Ex Tax:

1.00 руб.
Brand:

KFD

Product Code:

ECO MAX 14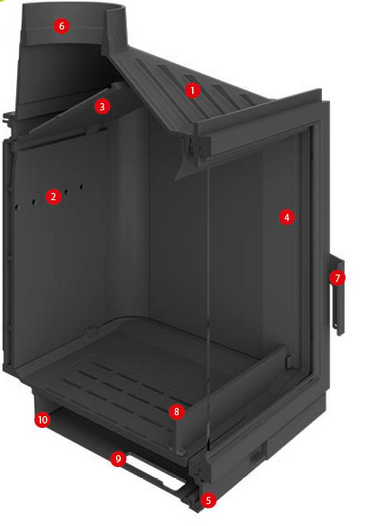 1. Reliability and durability
Rugged cast iron and steel construction of the highest quality guarantees safety and reliability for many years of operation.
2. Efficiency and ecology

The modern dual combustion system allows you to maximize the energy of wood and take care of the environment.
3. More performance

The flue gas deflector makes the flue gases circulate longer in the furnace. As a result, heating efficiency is increased and combustion becomes more environmentally friendly.
4. Safety and beautiful view of the fire

All glasses are made of transparent ceramics resistant to temperatures up to 800°C and thermal shocks. Thanks to the air curtain and pyrolysis, they stay clean longer.
5. Precise power adjustment

Smooth adjustment of the air supply allows you to control the intensity and speed of combustion.
6. Shaft (option)

The damper allows precise control of draft in the chimney.
7. Tightness, aesthetics and comfort

The door is locked with a lock that closes the door tightly. Included (depending on the model) "cold handle" or gloves that provide comfortable and safe work.
8. Convenient operation and easy maintenance

The ash pan allows you to quickly and conveniently get rid of the ashes. Removable parts of the furnace allow maintenance without dismantling the furnace.

9.Direct air intake (option)

The possibility of equipping with a direct supply of combustion air to the furnace (additional equipment) guarantees correct operation in modern energy-efficient homes. Standard equipment of inserts ECO iLUX 90 and ECO iLUX 90 L/R.

10. Frame (option)

The optional stand allows for quick and easy assembly and precise height adjustment for stability. Standard equipment of inserts ECO iLUX 90 and ECO iLUX 90 L/R.
Main characteristics
Heated area (sq.m.)
110
Heated volume (cubic meters)
275
Rated power (kW)
11,5
Efficiency (%)
82,5
Ecology class
А+
Fireplace insert width (mm)
700
Chimney diameter (mm)
200
WxDxH (mm)
713х452х702
Glazing type
straight
Product weight (kg)
115
Housing material
Cast iron
Combustion chamber material
Cast iron
Burning type
hearth
Fuel
Firewood
Special Features
Glass up
No
Air supply to glass
Yes
Long burning
Yes
Water circuit
No
Air supply from outside
No
Gate valve (rotary valve)
Yes
Ash box
Yes
Tags: KFD, fireplace insert